Visitors to the future Inverness city center hotel are unlikely to be aware of the real estate and construction headaches its owner and builder had to endure to get the three-story structure built.
The latest is soaring material costs, labor shortages and supply chain delivery issues that have plagued most construction across the country. Citrus County hotelier Dr. Paresh Desai has not emerged unscathed from his latest project in Inverness as he awaits materials that have driven up the cost of the hotel by around 15% and pushed back its open for at least a month and maybe two.
But sitting in the hotel construction trailer next to the partially completed hotel to meet with DI Construction, LLC Superintendent John Dungan, Desai is optimistic about the 72-suite hotel and its progress despite the issues. Of the industry.
"We struggle like most builders," Desai told the Chronicle.
But Desai said he included a cost buffer that will be enough to cover rising material and labor costs.
And banks are working with builders on repayments, knowing there have been construction delays, he said. But Desai smiled and said he didn't think this project would need a meeting with the bank.
"Hopefully we don't get to that level," he told the Chronicle.
Originally thinking the hotel would open in June, he now thinks July or August are better bets.
"For the hotel to be open to the public, it has to have it all," Desai said.
That means every element that makes up a hotel, from the soap dishes in the showers to the nightlights in the rooms, has to be there, he said.
But it also creates problems for people like Dungan.
This is often because work in a hotel room area has to stop because work cannot continue until the materials arrive.
For example, Desai and Dungan have ordered the kitchen counters for every suite in Vietnam, but they haven't arrived yet. Dungan thinks they will come in May. But the plumbers can't install the kitchen hardware until those countertops arrive and are installed.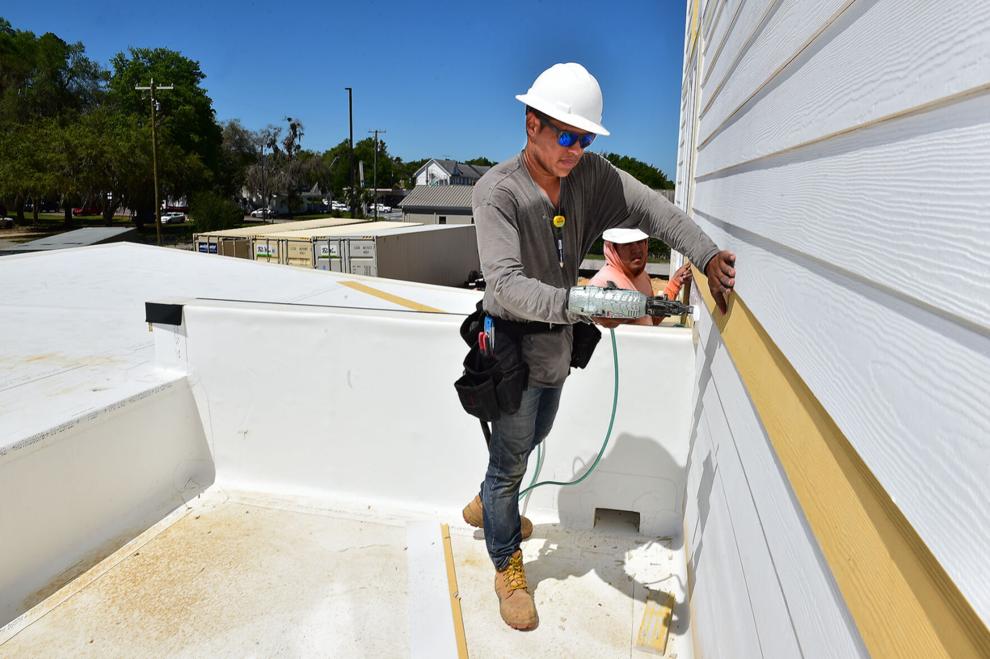 The same is true for bathroom sinks. Dungan hopes they will arrive in the next few days so that work can continue in the toilets.
Dungan said while the COVID-19 pandemic has waned sharply in the United States, other countries with factories that manufacture many building materials are still struggling with the disease and have had to shut down some manufacturing.
That means the remaining factories can't keep up with demand, Dungan said.
To further complicate construction, Dungan said there were still significant delays with shipments from other countries. This means that even though your counters have arrived, the ship's crew in Los Angeles is waiting for clearance to unload them. Then customs officials have up to a month to inspect the shipment, he said.
"Anytime you're expecting something," Dungan said. "And you tear your hair out every time you turn around."
But Dungan and Desai said it was happening across the country and the Inverness project was not unique.
Desai said he does not regret the hotel. He expects the hotel to enjoy 80% to 90% occupancy when it is complete and will accommodate visiting HCA Florida Citrus Hospital staff as well as the general public.
The project has always had its issues, which gave Desai thick skin.
The two-acre site was originally owned by the Citrus County Hospital Board, which owns HCA Florida Citrus Hospital and leases it to Hospital Corporation of America. In addition to the hospital, the lease included the hospital campus land.
In order to purchase the two acres, Desai had to work with HCA to remove the property from the lease, then meet with the Citrus County Hospital Board and get its trustees to agree to the sale. The process took two years.
But there's been a silver lining to it all, both men agreed.
As for the only future hotel in town, Desai and Dungan said Inverness officials could not have been more helpful.
Inspectors arrive on time and if there is a problem, they work with the builder to find a solution rather than simply stopping work, they said.
"It's flowing," Dungan said of his work with city building officials. "You don't get caught up in the hype."
Inverness officials have been the easiest to work with compared to all of its other hotel projects, Dungan said.
Desai said City Manager Eric Williams gave him his cell phone number, so if there's a problem, whether it's a weekday or a weekend, Williams can get involved to help find some. solutions.
Desai also praised the county sheriff's deputies who made the site safe and despite a shortage of materials, there were no thefts in the hotel project.